What Made Blake Smile
My wandering fingers came together. They knead From dream-clay, clay of other planets, The shape of my redeemer. Painful and intriguing: Like Eve emerging out of Adam's rib.
Pliant, flexible the clay, I sense an eye, an arm. A miracle takes shape, assumes a wondrous form.
(Abraham Sutzkever, translated by Barbara and Benjamin Harshav)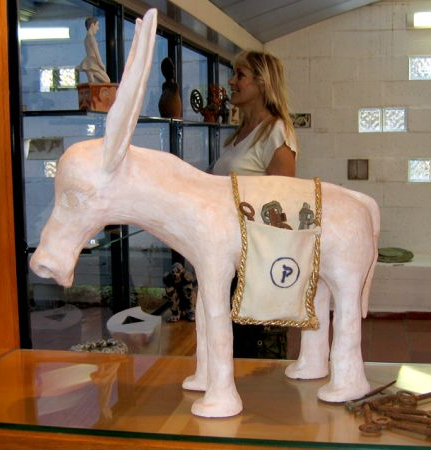 "In second grade, when we were given Bibles," Nava Koresh recalls, "and the Lord called unto the man: Where art thou?, it sent shivers down my spine. And I carry that shiver with me to this very day."
Words, sentences and stories enchant Nava Koresh and she casts the words into forms, without consciousness intervening in the process. Those who haven't experienced the complex process of creating art should be reminded that only one who is conscious and knows how to control consciousness is capable of restraining and persuading it: "now sit there quietly and let the magical words transform into shapes and colors."
The exhibition Legend of Clay is actually the path the words take in becoming imaginary figures – until mouths, for instance, emerge from the clay. Gaping mouths or mouths tightly shut, a small chasm or a crack that gives the images a new life, a life taken from Nava Koresh's personal world of demons.
Koresh's surprising language teaches us how inadequate our ordinary world is. The Creator of all worlds may have invested six days of thought in this world, but he forgot the compassion, the gentleness, the lack of clarity with which Nava Koresh's hallucinatory world of clay is blessed.
Some people work with clay. Some sculpt with it and some even make art with it. Nava Koresh creates in clay. Sometimes the creation takes on a form that the creator intended, and Nava smiles with satisfaction. Sometimes she abandons the master plan in the process, and upon seeing the result, smiles with surprise. Whichever the case, Nava Koresh's smile, which is unmatched in any world, is present in the background of all her creations, and even the most skilled scientist would be unable to define them.
Legend to the excerpt from Sutzkever:
"Pliant, flexible the clay, I sense an eye, an arm. A miracle takes shape, assumes a wondrous form." One can't help but recognize that this is an accurate description of Koresh's wondrous world of demons. And if one asks Nava Koresh "Why?" or "Is there a message," and other journalistic queries, the answer is something like: "I'm interested in doing things that I don't encounter on my way to the supermarket."
If Koresh is nostalgic, her nostalgia includes the childhood of the biblical Abraham, son of Terah – the days that he spent guarding his father's idol-making workshop. "Terah is my spiritual father," Nava jokes, and indeed, if the child Abraham had entered her studio, he would have felt right at home.
Thirty years ago today, the Mabat Gallery exhibited Nava Koresh's first paintings: naive nudes that projected lyrical eroticism and resembled overgrown fetuses. Even then there was something ritualistic in the nude bodies. From there Nava continued on to what the categorizer would call "ritual art." Osias Hofstatter, Enzo Cucchi and Odilon Redon are some of the artists in her personal pantheon. And there is also, of course, the one and only William Blake, whose spirit floats over Koresh's innocent Garden of Eden. Blake, who now sits on one of the levels that he tried to map out in his mystical teachings, looks at the collection of marvelous creations by Nava Koresh, at the interpretation the clay brings to words and with which the words envelop the clay and says to himself: "That's what I was lacking, a bit of humor," and then probably smiles to himself, simply because you can't help but smile when you touch the inner and outer world of Nava Koresh.
And God, who surely has constant eye contact with William Blake, would immediately agree, even though he doesn't allow himself to smile.
Danny Kerman