Not quite sure if this counts as a real comic or just a crappy collage (comics are hard), but inspired by recent efforts by more talented people, I came up with an idea for a new logo for the Perl6 project, which I think conveys of the spirit and vitality of the Perl community on the 10th anniversary of the Perl6 undertaking. Or not.
click to see the whole thing: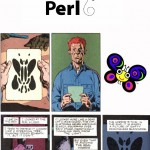 Watchmen artwork and lettering is by the incomparable Dave Gibbons, Watchmen text is by the divine Alan Moore, Perl 6 Camelia logo copyright 2009 by Larry Wall, Sebastian Riedel's user icon and artwork are his. All images remixed without permission for obscure in-jokey satirical purposes.
I'll just add that there are plenty of useful features introduced for Perl 6 and implemented in Perl 5; a decent logo/mascot/emblem would not be the least of them.